With significantly lower rates of infection and severe illness from the virus rare among children and young people, lockdown was a huge sacrifice on their part for the health and wellbeing of the rest of the population.
With restrictions gradually easing, we are seeing the profound effect the lockdown has had on of our children and young people, with particularly acute impacts on the most vulnerable.
While the nature of the pandemic and lockdown has meant that some families have been affected more than others, every child and young person in Devon has felt an impact on their lives in one way or another.
Preventing hidden harm and exploitation
According to regional domestic violence and abuse support charity Splitz, domestic abuse services in Devon are taking up to 60% more calls than they did in 2019. Rises in mental health issues and drug and alcohol misuse have also been reported. As a result of the pandemic, many more people have been exposed to these harms within their households. We will hold a particular focus on making sure we protect infants from forms of abuse, harm and neglect.
Online exploitation remains an ever-increasing risk. Young people have been spending a lot more time online during the pandemic, putting them at greater risk of online grooming. The changing nature of criminal activity during the pandemic is likely to leave some children and young people vulnerable to exploitation. We will work together to disrupt forms of criminal and sexual abuse and exploitation, protecting children and young people by identifying those who may be at risk.
Supporting emotional health and wellbeing
According to online mental wellbeing community Kooth, anxiety/stress was by far the most common presenting issue of young people in Devon. 46.7% of all users highlighted it as an issue, up from 33% in 2019.
Meanwhile, a national survey by mental health charity YoungMinds found that 69% of young people with a history of mental health problems are describing their mental health as poor after returning to school in the Autumn term.
The proportion of Kooth users in Devon with anxiety or stress, (Kooth)
Supporting return to learning
Almost overnight, children's education was disrupted, they were cut off from their support networks and isolated from their friends. What's more, many children and young people with Special Educational Needs and Disabilities have faced additional barriers to accessing their education as a result of the COVID-19 restrictions.
Community focus
Many young people and families in Devon have seen their financial circumstances change due to the ongoing coronavirus pandemic. Take up of the furlough scheme in Devon was higher than the national average, while youth unemployment has increased by 160% between February and September this year.
Food bank usage in Devon was up 250% in April 2020 compared to the year before, and the number of authorised free school meal claims more than doubled.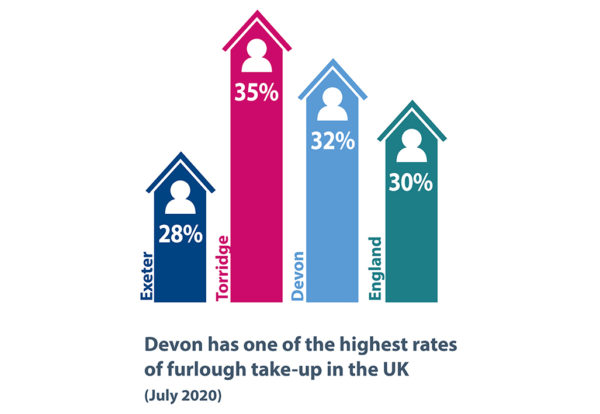 What next?
A firm foundation in universal support for all young people will be crucial as we build back better, to support communities, localities, Devon and the UK as a whole. In addition we will ensure that services will be targeted at those who need it most.
Our renewed commitment to the priorities set out in our Children and Young People's Plan 2019-2023 is vital as we continue to respond to the COVID-19 pandemic.
Combined with a 'reset' of our priorities for 2020-2021, our focus will firmly be on the most pressing needs and issues which have the most significant longer-term impact on children and families in Devon.